Cylinder Magnetic Separator SCXH Series
Cylinder Magnetic Separator is ideal for the removal of tramp type contamination, for example nuts, bolts, staples etc., from gravity and pneumatically conveyed pipelines. The unit is designed to prevent tramp iron from damaging expensive process machinery. It is available for grainy cereals, with a buffer to reduce flow speed and enhance the capacity of filtering Fe particles.
Strong magnetic filter bars, high catching ability, large coverage area, without zera magnetic field.
Mounted on the door with easy-cleaning version, extract the magnetic core to wipe off the Fe particles conveniently and efficiently.
Quick-wear parts are replaceable.
Technical data:
Magnetic performance: 7'000-9'000
Materials of housing and other parts: 304 stainless steel/316 stainless steel
Surface finish: Sand blasting/Powder painting
PATENTED PRODUCT
ZL 2011 1 0319437.8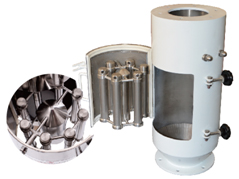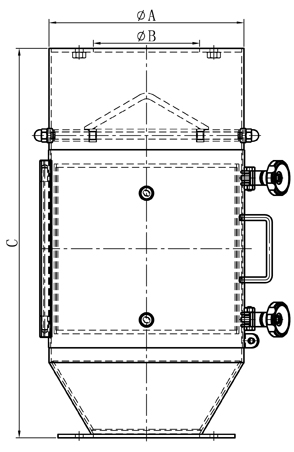 Model No.

Capacity(t/h)

Inlet

Dimension

Wheat

r=0.75

ΦB mm

ΦA mm

C mm

SCXH1016

8

100

159

400

SCXH1220

12

120

200

450

SCXH1222

15

120

219

450

SCXH1525

21

150

250

500

SCXH1527

25

150

273

550

SCXH1530

30

150

299

550

SCXH2032

50

200

325

550

SCXH2035

60

200

350

600

SCXH2337

72

225

375

650

SCXH2540

89

250

400

700

SCXH2545

113

250

450

750

SCXH3050

195

300

500

800