Suspended Magnetic Belt Separator
It can be used to filter the ferromagnetic impurities from the bulk material by deep magnetic penetration and the unique magnetic circuit design. It is a high-efficiency, green and energy saving machine with strong permanent magnets inside. It is usually installed in the head or middle of belt conveyor to filter the iron tramp from the bulk material, and the iron tramp will be threw out by the belt to get to the purpose of automatic removel.
The machine can be used widely in food processing industry, power industry, mining industry, metallurgic industry, architectural material industry, coal industry, chemical industry, port of coal transportation, glass industry and so on. It is able to work for long time without any trouble in various severe environments .
Benefits:
Constant magnetic field with reasonable distribution and deep magnetic penetration
Suspended magnetic belt separator is more simplified than electric magnetic separator, which don't need field power supply and cooling system.
Saving energy, lower fault rate
Operating easily, working safety and reliably
Drum-roll structure with automatic correction function
Full sealed mounted bearings, with good leakproofness and can adapt to various severe environments
Diversified options for belt width and magnetic field strength
Technical data:
Magnetic performance: Gauss value ≥400Gs within the rated suspended height.
Materials of housing and other parts: 304 stainless steel/316 stainless steel
Surface finish: Sand blasting/Powder paiting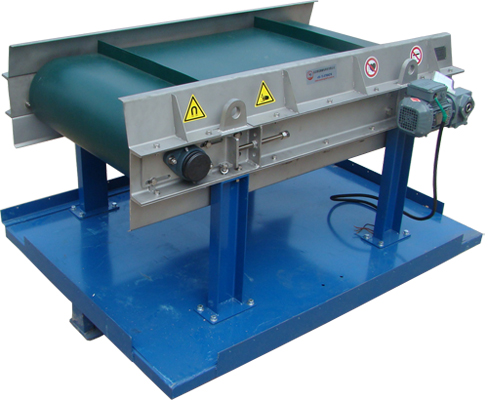 Model No.

Belt Wtdth

mm

Rated Suspended Height

mm

Outline Dimension

AXBXCmm

SCXI-650

650

200

1575X1130X807

SCXI-800

800

250

1725X1280X807

SCXI-1000

1000

300

1925X1480X807

SCXI-1200

1200

350

2125X1680X807

SCXI-1400

1400

400

2325X1880X807