Pipeline Magnetic Separator - Stay warm version
Design for pressure-operated conveying fluid,pulp and fine powder in the production line.Surface gauss value can get to more than 12'000Gs,Housing of magnetic separator is made by stainless steel AISI304 with polished finish to meet the requirement of food and pharmacy industry.
Easy-cleaning structure to wipe off Fe particles conveniently and efficiently.
Be widely used in processing industry of edible oil,food and pharmacy to filter all kinds of ferromagnetic particles from fluid,pulp and fine powder efficiently and safely.
Technical data:
Magnetic performance: 8'000Gs-12'000Gs
Materials of housing and other parts: 304 stainless steel/316 stainless steel
Surface finish: Polished/Sand blasting/Powder painting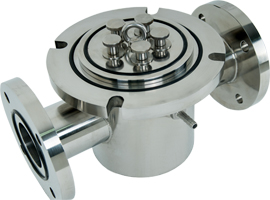 | | | | | | | |
| --- | --- | --- | --- | --- | --- | --- |
| Pipeline Normal Diameter | Model No. | A mm | B mm | C mm | D mm | E mm |
| DN25 | SCXD25B | 159 | 25 | 187 | 350 | 217 |
| DN32 | SCXD32B | 159 | 32 | 187 | 350 | 217 |
| DN40 | SCXD40B | 159 | 40 | 214 | 360 | 217 |
| DN50 | SCXD50B | 159 | 50 | 244 | 360 | 217 |
| DN65 | SCXD65B | 159 | 65 | 244 | 360 | 217 |
| DN80 | SCXD80B | 159 | 80 | 244 | 400 | 217 |
| DN100 | SCXD100B | 159 | 100 | 260 | 360 | 217 |
| DN125 | SCXD125B | 272 | 125 | 340 | 570 | 350 |
| DN150 | SCXD150B | 320 | 150 | 388 | 700 | 405 |
| DN200 | SCXD200B | 350 | 200 | 428 | 730 | 425 |