Hump Magnetic Separator - Pneumatic version
Remove the ferromagnetic impurities from the material which conveyed by wind or free-falling because of gravity.
Fit for installing in pipeline to remove the ferromagnetic impurities from flaky, granular and powdery material effectively.
Widely used in production line of larger particles materials with high flow or powdery material with good fluidity
Benefits:
Easy-cleaning structure to wipe off Fe particles easily and efficiently
Magnetic plate connects with body of magnetic separator by hinges, it can be opened to clean up at any time afrer stopping working
Wearing parts are protected by wear-resistant material which can be changed after wearing out, it extends the service life and reduces the maintenance cost
Adding air cylinder basing on standard version. The cleaning process is controlled by manual reversing valve or electromagnetic reversing valve
It is a convenient way to save labour.
Technical data:
Magnetic performance: 4'000Gs
Materials of housing and other parts: 304 stainless steel/316 stainless steel
Surface finish: Sand blasting/Powder painting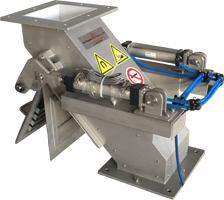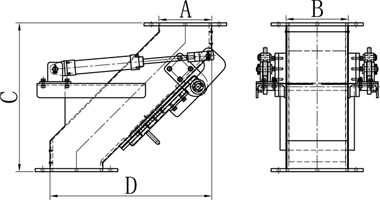 Model No.

Inlet

Outline Dimension

AXBmm

CXDmm

SCXTQ-120Z

150X120

470X486

SCXTQ-150Z

178X150

470X514

SCXTQ-200Z

178X200

500X544

SCXTQ-250Z

178X250

500X544

SCXTQ-300Z

178X300

500X544

SCXTQ-350Z

200X350

525X591

SCXTQ-400Z

200X400

525X591

SCXTQ-450Z

200X450

525X591

SCXTQ-500Z

200X500

525X591