Drum Magnetic Separator
Drum Magnetic Separator is ideal for the continuous removal of ferrous contamination from any dry bulk material. The magnets remain static as the drum rotates enabling the unit to continually cleaning.
Contamination entering the housing is fed onto the drum surface where it is attracted. As the drum rotates, carry over fins move the contamination to the rear of the drum where the magnetic area ends, enabling the contamination to fall through the reject chute section of the housing.
Benefits:
A buffer in the feed inlet on the top of drum magnetic separator,with the capacity of flow control.
Integrative gear drive motor adjusts the speed conveniently.
Replaceable buffer reduces maintenance cost.
Easy-wearing parts covers with wear-resistant material.
Technical data:
Magnetic performance: 3'500Gs
Materials of housing and other parts: 304 stainless steel/316 stainless steel
Surface finish: Powder painting/Sand blasting/Brushed
Customized voltage is available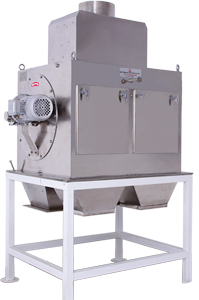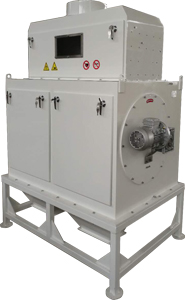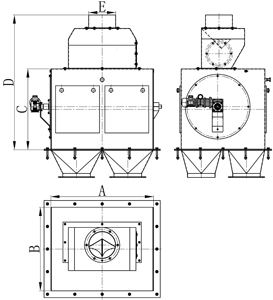 Model No.

Dimension (mm)

Capacity

A

B

C

D

E

m³/h

t/h(Wheat r=0.75)

SCXG-22/46

460

450

500

900

150

25

18

SCXG-30/46

460

620

550

900

200

50

37

SCXG-30/76

760

620

600

1000

200

85

63

SCXG-45/81

810

920

950

1600

300

141

105

SCXG-45/100

1000

920

950

1600

320

200

150

SCXG-45/135

1350

920

950

1600

350

260

195