Circular Magnetic Grid:
Magnetic grid is very versatile and can be utilized in most powder, granulate and liquid applications for removal of ferrous and paramagnetic contamination down to sub micron in size.
These units can be manufactured to any size and with any number of bars to meet most application requirements. Due to the grids low profile side frame, these units can be installed into existing pipelines or feed hoppers.
Benefits:
Strong magnet circuit design, Max. surface Gauss value could achieve 12'000Gs;

No "zero" magnetic area exist;

Waterproof and well polished magnetic bars;

Easy-clean type and food grade can be provided on request;

With Circular version, Rectangular version, and Cylinder version available to fit any size or shape of hopper;

Customizing and designing according to the application.
Technical data:
Magnetic performance: 7'000Gs-12'000Gs
Materials of frame and tube: 304 stainless steel/316 stainless steel
Surface finish: Polished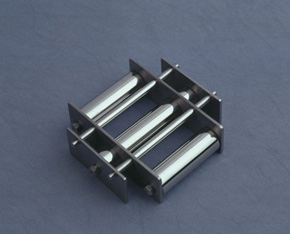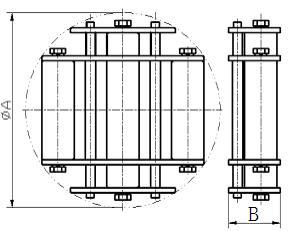 Circular magnetic grid Ⅰ

ITEM No.

(NdFeB series)

ITEM No.

(Ferrite series)

No. Bars

Dimensions (mm)

Approx. Before Packing Wt.(kg)

A

B

NdFeB series

Ferrite series

OEYF5A0101

OEYF2A0101

3

100

40

0.6

0.5

OEYF5A0102

OEYF2A0102

3

150

40

1.7

1.5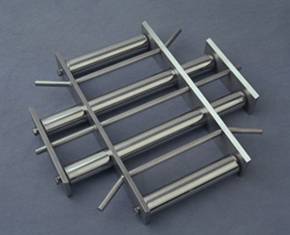 Circular magnetic grid Ⅱ

ITEM No.

(NdFeB series)

ITEM No.

(Ferrite series)

No. Bars

Dimensions (mm)

Approx. Before Packing Wt.(kg)

A

B

NdFeB series

Ferrite series

OEYF5A0103

OEYF2A0103

4

200

40

3.1

2.7

OEYF5A0104

OEYF2A0104

4

250

40

4.4

3.8

OEYF5A0105

OEYF2A0105

4

300

40

5.4

4.6

OEYF5A0106

OEYF2A0106

4

350

40

6.3

5.4

OEYF5A0107

OEYF2A0107

4

400

40

7.4

6.2

OEYF5A0108

OEYF2A0108

4

450

40

8.4

7.1

OEYF5A0109

OEYF2A0109

8

500

40

14.4

11.9

OEYF5A0110

OEYF2A0110

8

550

40

16.3

13.4

OEYF5A0111

OEYF2A0111

8

600

40

17.9

14.5
*Customized type and size are available
Easy-Clean type